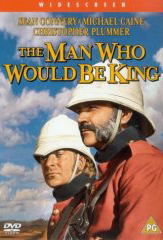 The Man Who Would Be King
Actors: Sean Connery, Michael Caine, Christopher Plummer, Saeed Jaffrey, Doghmi Larbi
Directors: John Huston
Format: Dubbed, PAL, Widescreen
Language English
Region: Region 2
Aspect Ratio: 2.35:1
Number of discs: 1
Classification: PG
Studio: Sony Pictures Home Ent. UK
DVD Release Date: 28 Oct 2002
Run Time: 123 minutes
We switherd about what category this DVD should be placed. It is a film based on fiction just like The Da Vinci Code. It was however written by a Freemason, about Freemasons, with Masonic themes. Rightly or wrongly we have decided to place it in the Masonic category. There will also be a link from the Fiction page to assuage the purists!
This film, based on a Rudyard Kipling short story, The Man Who Would Be King is a hugely entertaining, old-fashioned, 'boys own' style adventure. Even in 1975 people said: "Gosh, they don't make films like this anymore". Apparently when director John Huston (1906 – 1987) first thought about making this film he had in mind Clarke Gable (1901 – 1960) and Humphrey Bogart (1899 – 1957) in the leading roles but this plan came to nought following the death of Bogart in 1957.
It was more than fifteen years before Huston was able to make The Man Who Would Be King and most movie buffs agree that he could not have done better even if it had been made with Bogart and Gable as the stars.
Huston recruited Sean Connery (1930 – ) and Michael Caine (1933 – ) to play Daniel Dravot and Peachy Carnahan, respectively. They are a pair of lovable rouges, British soldiers, who set out to make their fortunes by becoming high priests of the remote region of Kafiristan and thereby making themselves kings.
This is a rollicking story which also includes a satire of British imperialism. The knockabout and the good-natured repartee between Caine and Connery shines through and it clearly spontaneous. Huston apparently encouraged that and so the humour emerges naturally.
What is not so well known, and even less understood, is that the film includes a number of Masonic themes. Kipling was a Freemason and he deliberately used it in his short story and this has been partly incorporated into the film. The film reflects this in several ways including the obvious use of Masonic symbolism. Houston, Caine and Connery are not Freemasons and so their interpretation of this part of Kipling's tale is not quite accurate. Had Houston been able to make the film using Clark Gable as one of the stars who know how the film might have turned out – why? – well, simply because Clark Gable was a Freemason.
This a great film for Freemasons. Not only is it a great movie in its own right but Masons will have great fun in spotting the various Masonic references – both visual and verbal.