The Ashlar Magazine
Scotland's only National Masonic News-sheet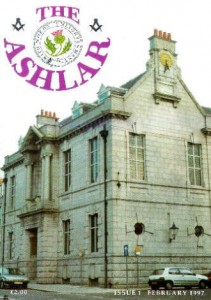 Since The Ashlar was first published in February 1997 it has attracted a devoted following of several thousands. For a country as small as Scotland it is no mean achievement that it has even survived let alone held its' own.
Published in January, March and September to suit the Scottish Masonic Kalendar it delivers information, articles, letters and reports on numerous matters appertaining to the 'doings' of Scottish Freemasonry.
The first issue sold out very quickly and has not been reprinted. It is now a collector's item (I have been offered £50 for my copy! – Ed.) and is an indication of how much it is sought after to 'complete the set' of many later subscribers.
As an indication of the kind of subjects covered by the magazine we list the articles etc., below, from issue 1. The September Edition is due to be published very shortly and it will be reviewed here as soon as possible thereafter.
Freemasonry and Politics.
Brother David Currie Past Master, Lodge Canongate Kilwinning No. 2.
The Liberal Art of Music.
Brother John Hay Past Master, Lodge The Prince's No. 607.
Understanding Freemasonry
Brother Ian MacLeod Deputy District Grand Master, District No. 9 American Canadian Grand Lodge, United Grand Lodges of Germany.
A Freemason and His Faith
Brother The Reverend Neville B. Cryer Past Grand Chaplain, United Grand Lodge of England.
Morality and Masonry
Brother J. M. Marcus Humphrey of Dinnet.
Aberdeen Masonic Temple
Brother James R. Gerrard Provincial Grand Master, Aberdeen City.
Brother Robert Burns Bicentenary Commemorations
Province of Dumfriesshire 1996 27 Brother Robin J. Sutherland,
Provincial Grand Secretary, Dumfriesshire.
Masonic Thoughts On Saint Columba
Brother John H. G. Herrick Past Provincial Grand Master, Inverness-shire.
It's a Small World
An Introduction to Rosslyn Chapel
Brother James McKay Munro Past Master, Lodge Rosslyn St Clair No. 606.
You may subscribe annually to the Ashlar Magazine by writing to the Editor at:
Angus MacInnes, Esq.,
19 Upper Glenfinlas Street, Helensburgh,
Scotland,
G84 7HE.
Telephone: 0044 (0) 7710 163340
Fax: 0044 (0) 1436 674325
The magazine costs £2.50 each (plus 50p – UK, £1.00 – Europe and £1.70 airmail for elsewhere).
Fax your credit card details together with your name and address to the above number.
Please do not send cash by post.