A Winter With Robert Burns
First Edition 1846. This Edition 2003.
Hardback. 184 pages with two fold-outs (of the painting and key thereto)
ISBN: 0 9544368 0 0. £12.95. ( Post and Packing extra)
Masonic Publishing Company.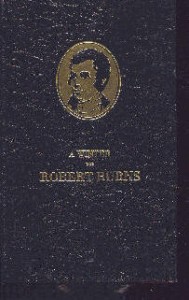 There was one thing that Burns never compromised over and that was being a Freemason. This book is a commentary on the people in the famous painting in the Grand Lodge of Scotland Museum at Freemasons' Hall, George Street, Edinburgh, Scotland: The Inauguration of Robert Burns as Poet Laureate of Canongate Kilwinning Lodge, 1st March 1787. Those who have the limited edition print of that painting really need to have this book. To go to the Grand Lodge of Scotland Website where there is a picture of this famous painting click here. Those who buy this book will, in all probability, wish to buy the print but it must be said that these are now very limited in number having been sold since 1996.
The first edition of this book was published to accompany the production of the painting referred to above. That book advertised for sale a limited number of lithograph prints, of various sizes and quality, and thus we can see that the book was an integral part of the complete 'package'. To have the print was a fine addition to one's home decor. To have the book was to learn much about the Freemasons Robert Burns knew and communicated with. To have both was to have a complete understanding of the painting, Robert Burns and those depicted therein.
Anyone interested in Burns as a Freemason, the life and times of those who knew and met him, and anyone who is in possession of a print of the painting will be interested in this book. It is handsomely bound in black leatherette – a nice addition to anyone's bookself.
To purchase the book please e-mail: glfinance@grandlodgescotland.org
or go to: http://www.scottish-masons.org.uk/glos/On_Offer/order_form.html