The Provincial Priory of Cheshire 1850 – 2000
UNITED RELIGIOUS, MILITARY AND MASONIC ORDERS OF
THE TEMPLE AND OF ST. JOHN OF JERUSALEM,
PALESTINE, RHODES AND MALTA OF ENGLAND AND
WALES AND PROVINCES OVERSEAS
by E. KT. DR A.  G. MATHIE
P. PR. HERALD
TEMPLE PRECEPTORY N0. 327
CHESHIRE BODYGUARD PRECEPTORY N0. 578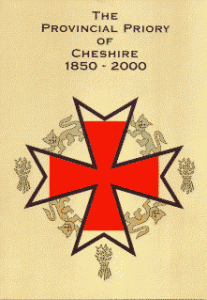 I thoroughly enjoy these local histories for they nearly always manage to pack in details that simply cannot be included in a national or international history. The author has not ignored those aspects providing a comprehensive, but brief, résumé of the overall development of Masonic Knight Templarism since the ceremony arrived in England soon after 1750.
It is on the local aspects that the author has concentrated and in this he has done a wonderful job providing details of the Order in the Province by means of describing the lives and activities of the most prominent members of the Order. The personal and local touch is maintained by occasional quotes from Minutes an other records and thus we find items of interest such as:
'In 1880, the Province met at Dukinfield and three Visitors from Loyal Volunteers, Ashton-under-Lyne, signed the Attendance Book. The report from Committee of General Purposes was in a pessimistic vein. The number members in the Province had reduced to 72 and the "Extraordinary and continued depression of trade in the district" referring to the Great Depression which began in 1873, was quoted as a contributing factor.' (1880)
'The Sub-Prior reported that work throughout the Province was lax. Returns were late and Royal Edward, DeTabley and Grosvenor [Preceptories] were fined 10/6d for this.' (1917). (Some things never change! – Ed.)
At the end of the book the author provides details of all the Preceptories in the Province and providing a short history of each.
There are small number of interesting illustrations of certificates, summons's and a couple of photographs.
In 63 page there is much to enjoy here and anyone interested in the modern Order of Masonic Knights Templar will find this an interesting and useful addition to their library. Those Knight Templars who live in Cheshire will, of course, already have purchased a copy.