Rosslyn Exhibition – Country of Painter and Poet
11th April to 7th July 2002
Admission £3.00
Concessions £2.00
(William Delacour. The Prospect of Rosslyn Chapel from the North-west, 1761. © The British Library Board)
The legend and intrigue that has surrounded Rosslyn Chapel, Castle and Glen has been a source of inspiration for some of the greatest figures in British art and literature. It has been suggested that this picturesque and romantic location, which lies among the Pentland Hills, seven miles to the south west of Edinburgh, may be the resting place of the lost scrolls of Solomon's Temple and the Holy Grail. For over two centuries Rosslyn has attracted countless artists, writers and antiquaries, fascinated by the mystery and natural beauty of the area. This exhibition, which is the first ever to explore this fascinating subject, has been selected and researched by the Countess of Rosslyn and Dr Angelo Maggi, in collaboration with the National Gallery.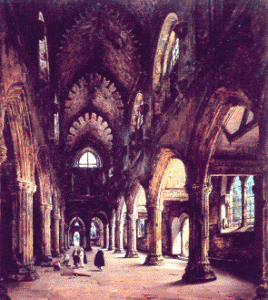 The building of Rosslyn Chapel was begun in 1446 by Sir William Sinclair, third and last Prince of Orkney, and head of a powerful dynasty whose lineage included William the Conqueror and Robert the Bruce. The exhibition will investigate the remarkable architecture of the Chapel and its popular association, through the Lords of Rosslyn, with the Templar Knights and the origins of Scottish Freemasonry. In 1441 James II granted the St Clairs the position of Hereditary Grand Master Mason of Scotland: among the paintings, prints and drawings on show will be several images of the exquisitely carved Apprentice's Pillar, the focus of one of the most enduring Masonic legends of Rosslyn.
The Chapel's development over the centuries will be explored through the work of artists as diverse as William Delacour, the first master of the Trustees' Academy in Edinburgh in the 1760s, and the eminent 19th century critic and watercolourist John Ruskin. The exhibition will investigate how the building was conceived by its founder, and what it came to represent for later generations of travellers, artists and writers. The majority of the works have been borrowed from private collections and many of these have never before been seen in public. One of the most exceptional is a painting of the Chapel interior by the French pioneer photographer Louis Daguerre. This was first shown at the Paris Salon in 1824 and is related to a spectacular and now lost three dimensional diorama of the same subject.
The National Galleries of Scotland produced a nicely illustrated book to accompany the exhibition entitled: Rosslyn – Country of Painter and Poet. A book review will be placed on this website in due course.
The Exhibition ended on 7th July 2002. This page will be left for the interest of visitors to this site.
A book was produced to accompany the exhibition and to read a review of this click here.