The Rosslyn Hoax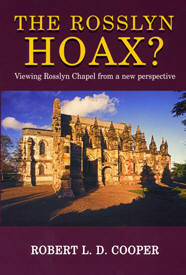 A great deal of discussion has taken place in a number of blogs and chat rooms about this book – could those responsible for running Rosslyn Chapel knowingly have engaged in a hoax to con the public? Why would they? How? When? We doubt it and put that down to hype… but then again…
The author, unsurprisingly, is playing his cards close to his chest but The Rosslyn Hoax? web site gives some insight to where he is coming from. The book is large (320+ pages) and contains, for the first time, transcripts of rare documents which many writers on Freemasonry, Rosslyn Chapel, Knights Templar and the St. Clair family quote and comment on but which are never produced in full. For the first time people will be able to assess the accuracy by reading the actual documents themselves.
The author, the Curator of the Grand Lodge of Scotland Museum and Library has long been a supporter of a holistic approach the the study of Rosslyn Chapel, Freemasonry, the Knights Templar and the St. Clair family (for example) and indeed it was he who was the prime mover behind the creation of this web site more than four years ago. It also looks like his holistic approach will pay off in another way – the International Conference on the History of Freemasonry (ICHF) which will take place in May 2007 – a few more details are to be found on the News page.
From The Rosslyn Hoax? web site we learn that this book is the culmination of years of research in order to answer 100's of questions received by the Grand Lodge of Scotland (the home of Scottish Freemasonry) on a whole host of diverse questions associated with Rosslyn Chapel.
Although it is unlikely that The Rosslyn Hoax? will get into the best sellers list (that the kiss of death then! – Ed.) it will, hopefully, provide information which many has sought in order to further examine the claims of many others who write about Rosslyn Chapel, Freemasonry etc.
It is our understanding that the book, launched on Monday, 9th October 2006, has now sold out. A updated paperback edition has now been published and is available at all good book shops.