The Genealogie of the Saintclaires of Rosslyn
Published by the Grand Lodge of Scotland
Edited by Brother Robert L. D. Cooper. Latin translations by Brother John Wade.
£29.99 (Hardback) £18.99 (Paperback) 240 pages. Illustrated.
ISBN: 0 902324 63 2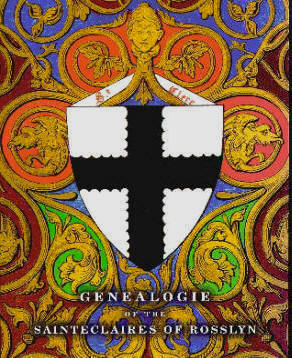 No one could suggest that this is light reading. For a start it has no beginning, middle or end in the commonly accepted meaning. That is because the majority of the book consists of Charters, Deeds etc. of the St Clair (or Sinclair – to read more about the various spellings click here) family which were once kept within Rosslyn Castle. There is a 'pattern' however, in that the charters etc. are reproduced chronologically beginning in the 11th century. This was when the first St. Clair arrived in Scotland (on 1167 to be exact) and the first records of the family date from that century.
Father Richard Augustine Hay (1661 – c.1736), a Roman Catholic priest, was Chaplain to the St. Clair of Rosslyn and in that capacity had access to all of the family's papers. (Hay's father had died when he was young and his mother had married Sir James St. Clair). In order to promote the history of his new family, Hay copied every scrap of paper he could find belonging to the St. Clairs of Rosslyn and also recorded their oral traditions. In so doing he provided an enormous service for subsequent historians as the original documents that he so diligently copied were subsequently lost. Hay's work was handwritten and must truly have been a labour of love. Hay died in 1736. In 1835 James Maidment (1795 – 1879) of the Advocate's Library, Edinburgh, (now the National Library of Scotland) edited the manuscripts and published them as a book and it is his book which the Grand Lodge of Scotland has now issued as a second edition.
Why should anyone be interested in transcripts of old papers? From a historian's point of view this book is very important because access to Hay's original work necessitates travelling to the National Library in Edinburgh or obtaining a copy of Maidment's book which is very difficult as only 120 were printed. Maidment's book contains source material that is often quoted by numerous authors in support of a particular point of view. Until now it has been extremely time consuming to check whether, or not, Hay's work has been used well or accurately.
Most importantly the portions, in both the work of Hay and Maidment, which were originally in Latin have now, and for the first time, been translated into English.
The book contains a wealth of information about the linage of the St. Clairs of Rosslyn, Rosslyn Chapel, and Scottish history. The absence of any comment on certain subjects, for instance the Knights Templar, is very telling especially as these subjects are often central to the claims of a number of authors. Equally obvious is the lack of any comment by Hay on the subject of Freemasonry and that issue is addressed by the editor.
The new introduction (but leaving Maidment's intact), by the Curator of the Grand Lodge of Scotland Museum and Library, Brother Robert L. D. Cooper, concentrates on Scottish Freemasonry and its relationship with the St Clair of Rosslyn (occasionally given as: Sinclairs of Roslin) and Rosslyn Chapel. That introduction sets the record straight on a number of important matters and it provokes one to think further on these most interesting aspects of Scottish Masonic history.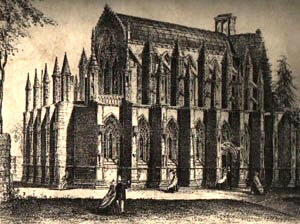 The book's importance lies not in its 'readability' but in its provision of source material. As this is a book, indeed the only book, to reproduce in extenso all the original family material relating to the St. Clairs, Rosslyn Chapel 'masons' etc. it is difficult to see how anyone who writes about or who claims to be knowledgeable on these subjects could be without this book. For the rest of us it is a fascinating insight, if slow read, into Scottish history as mediated through centuries of paperwork accumulated by one family. For this reason the Genealogie of the Saintclaires of Rosslyn (or in modern terminology: the Genealogy of the Sinclairs of Roslin) is almost indispensable.
The new Introduction by Robert L. D. Cooper, Curator of the Grand Lodge of Scotland Museum and Library, discusses the use to which Hay's work has been put by modern authors. In the course of that he discusses the Knights Templar, Scottish Freemasonry, and the St Clair's connections, or otherwise, with those bodies. This is not a discussion about the Knights Templar etc. per se but is directed firmly at the Sinclair Clan's place in Scottish history. Rosslyn Chapel is one major subject that this book sheds considerable light upon. The significance of William St Clair of Rosslyn (1700 – 1778) as first Grand Master Mason (1736 – 1737) of the Grand Lodge of Antient Free and Accepted Masons of Scotland is discussed in some detail.
This is a quality production and is not only useful in term of its content but also in its visual appearance. Be warned however, this is not bedtime reading. It is a goldmine of material on numerous aspects relating to the St. Clair family and should therefore be considered more as a work of reference. That said it is a must for all those who are interested in the subjects that it covers.