The Black Douglases
(War and Lordship in Late Medieval Scotland)
by, Michael Brown
ISBN: 1-86232-036-5
£30.00 Hardback. Tuckwell Press. 1998.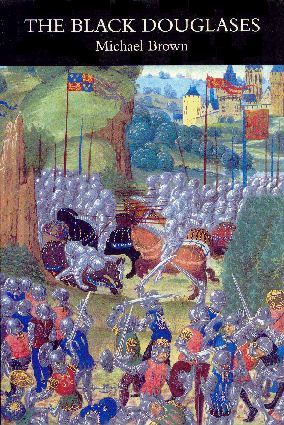 If you are interested in Scottish history and the 14th and 15th centuries in particular then this is a 'must buy' book.  Let me explain why
The author displays a superb grasp of the subject backed up at every stage by copious footnotes and sources.  Added to that there is an excellent bibliography.  Whilst displaying a wide reading of published material it is the benchmark of serious historians that original sources are utilised.  This is a fundamental difference which marks out this type of historical research in comparison to other forms of history which seemed to be written to a timetable.
The subject of this book is a minute examination of the Douglas family which began its rise to prominence in 1300.  This is no simple repetition of dates and major events but is a detailed examination as to how a family rose to become the most powerful in the land followed by an ignominious fall from grace.  The Douglases where central to the establishment of an independent Scotland and subsequently were pivotal in the way that country maintained its independence from England.
In the telling the story of the Black Douglases the author concentrates on the central characters, their foibles and characters as well as the basic facts which are so important in gaining an overall sense of the times and events in which these individuals lived.
For Freemasons this book is important as it covers the period of the suppression of the Knights Templar, their alleged arrival in Scotland, they're alleged "participation" in the battle of Bannockburn.  Michael Brown provides excellent detail of how Bruce's heart was sent on its journey to the Holy Land under the guardianship of James 'The Black' Douglas and of course William Sinclair. the failure of the expedition in Spain, and the return of Bruce's heart to Scotland is detailed also.  Needless to say the detailed and exhaustive research by the offer reveals nothing to substantiate the myth that the Knights Templer ever arrived in Scotland from France after their mass arrests in 1307.
Yet this book supplies much more than the explanation of the family before and after the death of Bruce.  The Douglas family continued to be the major force in Scotland before, and after, the time of Bruce and Brown in his discussion of the "family", demonstrates a fine grasp of Scotland during 1300 – 1455. For anyone who has an interest in that the affairs of Scotland and England during that period this book will provide much new and interesting material.
The book, at £30, is not cheap but the content is worth the money. The book is now also available in paperback from the same publisher.