New Orkney Antiquarian Journal. Volume 2.
92 pages. £12 per copy
ISBN 0 9535945 1 3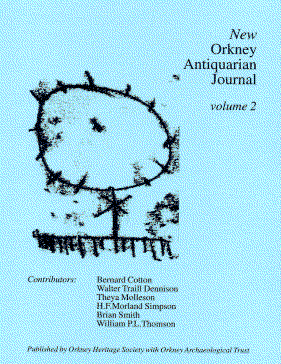 This is obviously not a book as such it is rather an occasional scholarly publication issued by the Orkney Heritage  Society together with the Orkney Archaeological Trust. The attraction here is that the journal supplies a very specific view of historical matters relating to the Orkney Isles. One Rosslyn Templar suggested that the recent use of the Kirkwall Scroll in a 'pop' history of Scottish Freemasonry was akin to the carpetbaggers of the American Civil War but this Rosslyn Templar, as editor (hopefully pro tempore), considers that to be a wee bitty harsh but quite understands the sentiments expressed. (" 'ware o' a' sa cawed "granny wits yer nummer guisers" particilar fra ferryloupers whey cry am Masonic jimmy" – my Lallands is not, sadly, all that good and I hope, therefore, I have expressed this as the Brother would have wished – Ed.).
This learned tomb contains much of interest not least the papers by Henry Sinclair's 'visit' to north America and the Zeno narrative both of which give a most interesting alternative to that which is presently available in the popular press.
The Contents of Volume 2 are:
Editorial
Earl Henry Sinclair's fictitious trip to America
The Zeno narrative
The Ladykirk Stone
Nine Men's Morris Board
The Leper of Newark
A Scandinavian Stave Calendar (sometime belonging to J.W.Cursiter Esq), now in Skaill House, Sandwick, Orkney.
The 'Wallace' chair
List of articles collected by Walter Traill
Dennison
Sheriff Court Pages
Recent Books and Papers