We were unsure in what category this book ought to be placed. The cover states history/biography but the content covers much more than that as there are chapters which contain details of the Knights Templar, Scottish Freemasonry, Rosslyn Chapel etc. which means that it does not easily fit any of our subject categories. It has therefore been included here in the miscellaneous section.
The review, below, was printed soon after the book was published in 1998. Some will argue that it is un-necessarily harsh.
The Forgotten Monarchy of Scotland

by HRH Prince Michael of Albany Element, £16.99
Review by Gerald Warner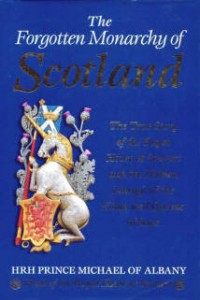 It is not every day that one is privileged to review a book written by the chief of a royal house who is also the head of a church. HRH Prince Michael of Albany modestly describes himself as "Head of the Royal House of Stew- art" and "Head of the Celtic Church of The Sacred Kindred of Saint Columba".
This lavishly produced book is the manifesto of the latest – and least persuasive – Stuart pretender. It abounds in genealogical charts designed to promote the claim of this 40-year-old Belgian [Michel Roger Lafosse] to be the legitimate descendant of Prince Charles Edward Stuart. Some chapters present a relatively innocuous resume of Scottish history; the remainder amounts to an extravagant folie de grandeur, involving secret marriages, smuggled babies and Knights Templar – the only missing ingredient is haemophllia.
When the innumerable red herrings are removed, the essence of the author's claim is that Prince Charles Edward had his marriage to Louise of Stolberg annulled by Pope Pius VI on 3rd April 1784. Louise is stated then to have married her lover, Count Alfieri, at Martinsburg Castle, Colmar, in August of that year. Prince Charles Edward later, it is claimed, married Marguerite Marie Therese O'Dea d' Audibert de Lussan, Comtesse de Massman on 26th December 1785, at the Church of the Santi' Apostoli in Rome, and she gave birth to a son, Edward James, on 15th November 1786, from whom the author descends.
The first of these four events, the annulment, is crucial: the others depend upon it. The author's sole evidence is a footnote, citing with striking imprecision 'The Vatican Archives, Rome'. What actually happened on 3rd April 1784 was that Charles Edward signed a document agreeing to Louise living apart from him (he was then in Florence) and, in his capacity as her husband, giving his permission "that We do permit her to live henceforth in Rome, or in any town she may consider most convenient, such being our pleasure". Four days later Louise announced this financial arrangement in a letter to her brother-in-law Henry, Cardinal York. There was no question of annulment.
As for Louise's alleged marriage to Alfieri, there was notoriously no man in Europe more averse to matrimony. Even after Charles Edward's death there was no likelihood of his marrying the widowed Louise. In her last letter to him, in 1792, Alfieri's mother vainly begged him to marry. His handwritten repudiation of liability to pay the "family tax" at Florence in 1801, on grounds that he and Louise were not married, survives in the museum at Montpellier. The peasants at Martinsburg, venue of the alleged marriage, always referred to the couple as "the foreign princess and the Italian nobleman who was not her husband". In Louise correspondence with her confidante Teresa Mocenni was never the slightest hint of marriage.
The alleged wedding of Prince Charles Edward and the Comtesse de Massillan is the most bizarre claim of all. Not only was he still married, but at this period he was totally under the control of his daughter Charlotte. There is something almost indecent about the claim that Charles, less than two years before his death, with his legs so swollen that he could scarcely move from one room to another, and long addicted to alcohol, sired a son.
For authentication of the relevant documentation the marriage and birth we are referred to a reproduction of a Belgian notary's letter dated 1965, and to the House of Stewart Internet website. There is a quotation, without further validation, from Prince Charles Edward's alleged will, naming his son Edward as his heir. How has all this previously eluded historians, Hanoverian spies, gossip-prone courtiers, Vatican officials, the Stuart Papers, biographers and genealogists?
Why did the present claimant's antecedents not emerge from obscurity to claim their rights during the intervening 212 years? Were they possibly suffering the painful delusion that they were ordinary Belgians citizens? With its extravagant distortion of Stuart and Scottish history, this book left an unpleasant after in this reader's mouth.
Scotland on Sunday
1998.