The Last Templar
By Raymond Khoury
Paperback: 480 pages £6.99
The Orion Publishing Group Ltd
6th March 2006
ISBN-10: 0752880705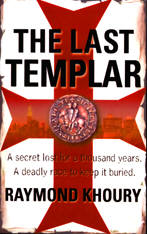 As you might imagine following the success of the novel The Da Vinci Code a large number of people jumped on the bandwagon created by Dan Brown. Most have sunk without a trace but some have been quite reasonable. The Last Templar by Raymond Khoury is one of the latter. This novel should not be confused with the novel by the same name by Michael Jecks (Headline Book Publishing, 1995. ISBN 0-7472-5061-8). Jecks' novel is set in the west country of England and although is about the Knights Templar after 1314 the two are quite different. Khoury's novel is based in the 21st century and England does not feature at all. Indeed, Rosslyn Chapel is not mentioned in either novel – an indication perhaps of the peripheral interest of that place?
Khoury's The Last Templar opens in dramatically – a daylight robbery of the New York Metropolitan Museum by mounted horsemen dressed as medieval Knights Templar. The Museum is staging an exhibition of Vatican treasures nearly all of which have never been seen in public before. Whilst the Knights Templar are interested in the priceless treasures one of them is intent only on taking an ancient device which we later learn is an medieval coding machine. Enter the hero – an FBI agent brought in to solve the case. He interviews one of the primary witnesses, and she happens to be a medieval historian. Together they conclude that the medieval coding machine as one that will decode previously untranslatable manuscripts that show the location of the treasure of the Knights Templar lost after the fall of Acre in 1291. Add to the mix a mysterious Priest who can call on resources only normally available to governments and you will not be surprised to learn that he is a member of Opus Dei and dedicated to stopping anyone finding the Templar treasure. The 'Last Templar' of the title is the main villain of the story (a Catholic Priest being the other) and he is intent on revealing to the world the earth shattering secret which will change our understanding of the past and destroy the church (the Roman Catholic Church).
This is an intriguing and reasonably well written novel. Occasionally it goes flat when trying to link parts of the plot together. The ending is a bit if an ant-climax but these things apart this it is a fast paced story worth reading. Is it better than The Da Vinci Code? Yes. Would it make a better movie than The Da Vinci Code? Yes.